Forms
MC-615591
Quad Global Ventures, Inc.
P.O. Box 2448
Kennesaw, GA. 30156
Phone: 770-424-1619
Fax: 770-424-0699
Our mission is to design and build effective, value added transportation solutions for our customers.
Quad Global Ventures offers you a clear advantage: The opportunity to leverage a full array of logistics services with skilled professionals assisting you every step of the way.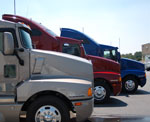 Headquartered in Kennesaw, GA, we commit to be avidly focused on providing first-class service and building long-term customer relationships. Our friendly, efficient and professional representatives are armed with the knowledge and resources to help solve all of your transportation and warehousing needs.
With over 30 years of combined experience, our expertise includes specialized services, truck load, and LTL.
Customers have access to our dispatch team 24 hours a day, which is conveniently centralized in one location to deliver satisfaction.